Newsy is a multi-source, multi-platform video news. Below are samples of news stories and videos about Africa.

Unrest in Uganda Turns into Deadly Riot by NewsyVideos
Unrest in Uganda Turns into Deadly Riot
Unrest turned into a riot in the Ugandan capital over the capture of opposition leader Kizza Besigye, where at least two were killed.
At least two people were killed and over 100 injured in Uganda's capital Friday over the capture of an opposition leader. BBC has the details.
"

…plain-clothed police and security forces fighting with supporters of Uganda's main opposition leader Kizza Besigye. He's trapped in the white jeep. They battered their way in and fired pepper spray. He's then bundled out of the car and dumped into a police truck."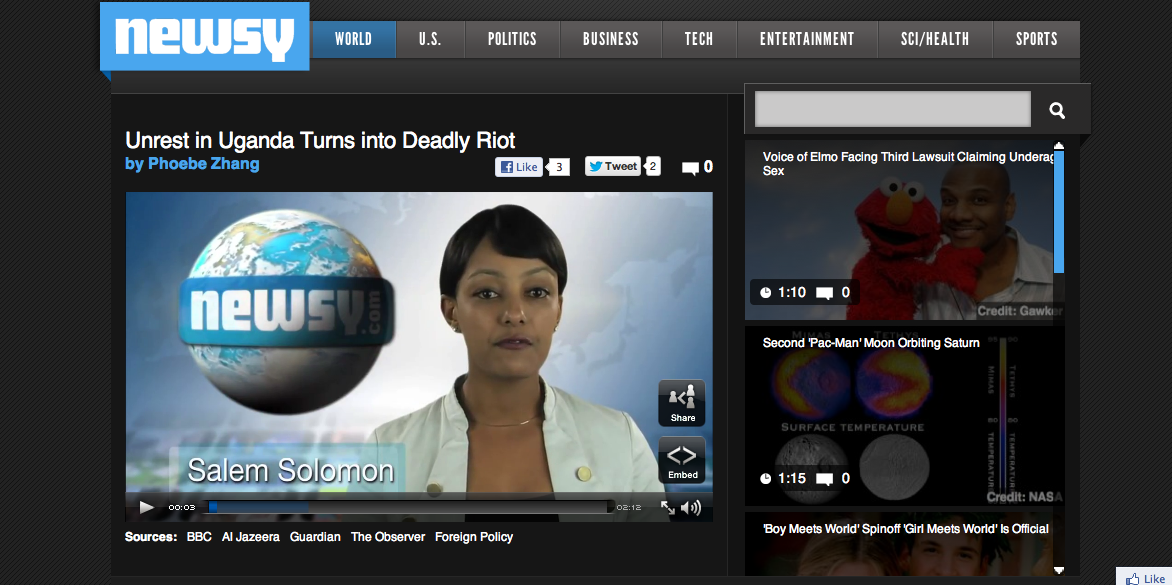 Besigye has been leading protests in recent months over high food and fuel prices in Uganda. And while he was released Thursday on bail, the Ugandans held an unprecedented riot Friday. But Al Jazeera reports, the government isn't backing down.

"

The government has so far refused to lower fuel taxes. Their response has been a clear signal that any unrest will not be tolerated.MINSTER: 'You know that the police has the power to even shoot you to death…'"
According to The Guardian, some wonder if the unrest is fueled by revolts in Tunisia, Egypt and Libya. But Besigye himself is hesitant to draw comparisons. The Guardian quotes him as saying –
"

The only parallel goes to the extent that people are discontented with what is going on and their governments are non-responsive. There is a loss of trust between the regime and the people. I think that is the only parallel I can see."
"

The display of bravado and impunity by state agents on Thursday can only remind Ugandans of past regimes that this government hates to be compared with. … Ugandans must say no to a return to the past. Uganda is big enough for all of us, regardless of our political, ethnic and religious differences."
"

"Uganda has had sharp increases in fuel and food prices due to drought and international oil fluctuations, and the opposition seized the opportunity to mobilize public dissatisfaction …But while the protests are getting more attention for the opposition, they don't necessarily mean progress."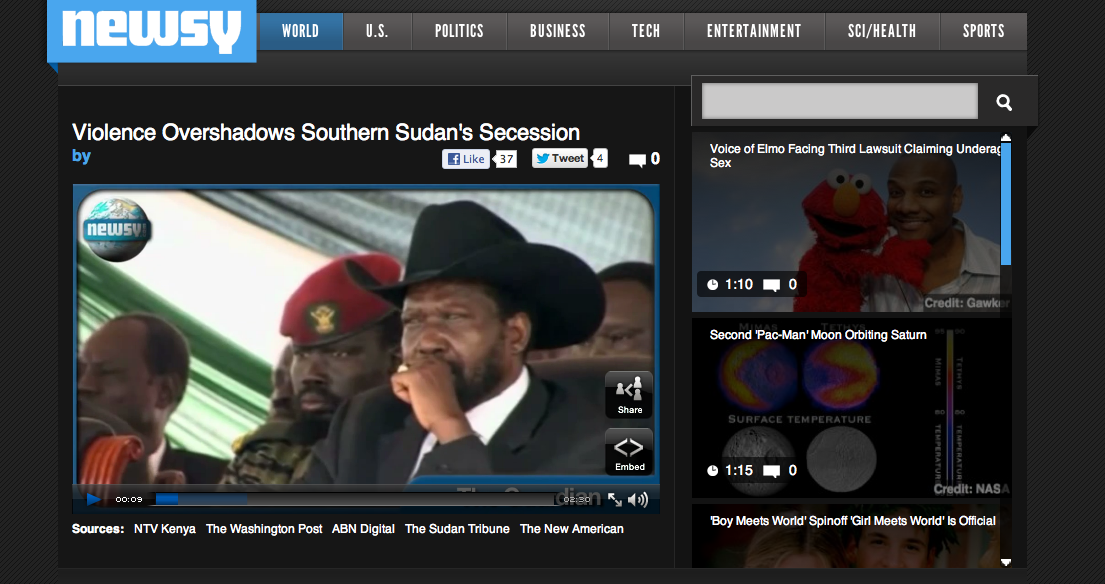 Violence Overshadows Souther Sudan's Secession: After an overwhelming vote in favor of secession, Southern Sudan faces a challenging road to independence.
The official count is in, and Southern Sudan has voted to secede from the north by a whopping 99 percent. The north has agreed to honor the referendum, but Southern Sudan faces mutiny and violence on its way toward independence. (Video Source: The Guardian)
NTV Kenya takes a look at the challenges that lie ahead for the fledgling nation.
"

Authorities here will need to think about the huge spending on the military. It is estimated that 60% of revenue goes to salaries for disciplined forces. The Southerners will also be looking for investors to produce essential goods locally. Most of the goods come from the North through the Port of Juba."
"

With all [Sudan Armed Forces] now required to withdraw to the north and the southerners in its ranks disarmed and discharged back to the south, the ex-militia elements are resisting the move. The mutineers also are fighting to keep some of the heavy weaponry in the south – and in their hands."
"

The competition over access to resources, particularly water, pasture, and also in terms of access to basic livelihoods is one of, going to be the most contested areas. And also we must not forget the vendic relationship between various ethnic groups will also play out because some of them are either economically pastoralist or they are farmers, so how are going to balance these two groups?"
"

So the referendum, which should have happened simultaneously with the one last week [in South Sudan], never materialized—and Abyei now stands in a state of dangerous limbo. We are like people stranded in the middle of journey. We are actually like people dropped to the desert or on an island."
"

From 2003 Abyei contributed more than one quarter of Sudan's total crude oil output. Production volumes have since declined and reports suggest that Abyei's reserves are nearing depletion.""
Southern Sudan's independence is set to take effect in July.
For more videos and news analysis, check the latest updates on Newsy.com.